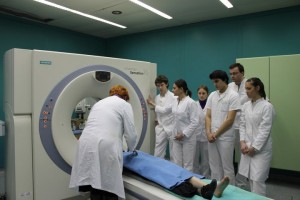 Clinical Practice
Upon finishing their 2nd and 4th semester classes, students attend obligatory practical training during summer holidays. Upon completion of the 2nd semester students are required to attend practical training for a total of 90 hours, and upon completion of the 4th semester, a total of 120 hours in the radiology departments of health care institutions. During clinical practice students apply the knowledge and methodological procedures they acquired in the previous period of study.
Clinical practice upon completion of the 2nd semester – 90 hours
Radiobiology and protection Introduction to the radiation protection means for the staff and patients, the way they are used, safety work regulations in the halls for radiological examination and operating rooms and units of intensive care.
Radiologic anatomy and pathology Observation and analysis of x-rays and radiographic presentation on negatoscope. Students must identify and define each anatomical structure in the radiographic presentation and perceive the presence of the most common pathological processes in the presentation (osteolysis, pulmonary infiltration, pleural effusion, broken bones, dislocations, tumor expansion, etc.)
Radiographic equipment Students are introduced to structural and functional components of radiographic equipment. Outside the recording process students must master all the methodological procedures of radiology departments and learn how to clean and maintain radiographic devices.
Radiological propaedeutics Students are required to learn all the procedures related to conventional radiological examinations: – checking and understanding radiology referral forms, – planning the examination (methods, materials, equipment) – preparation of the patient for imaging – positioning the patient for recording – immobilization of patients – protecting patients from radiation.
Radiologic terminology and standards Students learn the standards and practices of professional communication with patients, colleagues, radiologists, administrative and other staff of health institutions. Students should actively use professional terminology and practice understanding the terms used in daily radiological practice.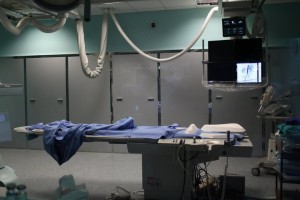 Clinical practice upon completion of the 4th semester – 120 hours
Anesthesiology, reanimation and intensive care medicine Recurrent visits to intensive care units – introduction to the norms and practices of work and behavior in a protected hospital area.
Surgery and traumatology Recurrent visits to hospital emergency surgical admissions, observing immobilization of injured parts of the body and primary treatment of the wound. Introduction to the basic concepts of antisepsis and asepsis.
Contrast media Passive participation in the preparation and initiation of contrast media in radiological examinations. Introduction to reactions to contrast media through the observation of possible changes and conversation with patients.
Conventional radiologic examinations Active participation in the planning, preparation and execution of all conventional radiological examinations.
Computerized radiologic methods Preparation of methodological programs and participation in computer data processing of computerized radiological imaging techniques.
Radiography of the skeleton During practical training students are required to train all versions of radiographic presentation of skeletal system articulations and be able to perform all the standard, additional and modified images. They have to be able to assess the value of radiographs using the acquired criteria, identify radiography image artifacts and determine their source and how to remove them.
Health care Students come into close contact with all categories of patients, including the operated patients and patients with severe disorders of consciousness. They gain experience in dealing with infectious and oncology patients and children of all ages.
Health Psychology and Communication Skills Students are required to establish an active relationship with the patient and learn how to get patient's case history associated with his clinical condition and radiological procedures. In addition, students practice professional communication at all clinical and non-clinical levels of a health facility.