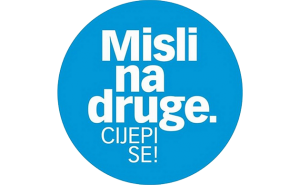 Poštovane studentice i  studenti Zdravstvenog veleučilišta,
Ponajprije vam, u ime Uprave i u svoje osobno ime, želim puno zdravlja i uspjeha u predstojećoj akademskoj godini. Prošla je godina bila vrlo zahtjevna i pred nas postavljala stalno nove izazove s kakvima se do sada u povijesti nismo imali prilike susresti. Stoga smo morali biti vrlo prilagodljivi te smo na različite načine pokušavali i uspijevali savladati većinu poteškoća kojima je pandemija  izložila obrazovni sustav.
Kako bi predstojeću akademsku godinu mogli čim učinkovitije organizirati te kako bi na vrijeme mogli ispunjavati svoje nastavne obaveze, a prvenstveno se to odnosi na kliničke vježbe u zdravstvenim i socijalnim ustanovama, molimo vas da se razmišljajući o svom zdravlju, zdravlju vaših bližnjih te zdravlju pacijenata/klijenata na radilištima, posvetite jačanju vlastitog imuniteta i otpornosti te se odlučite na cijepljenje protiv Sars-COV-2 virusa.
U prilog tome, molim vas pročitajte slijedeće.
Cijepljenje je i dalje jedna od najboljih zaštitnih mjera protiv bolesti COVID-19. Preporuke za cijepljenje donesene su u svim državama članicama EU-a, a provođenje nacionalnih kampanji cijepljenja je u tijeku. Europska agencija za lijekove (engl. European Medicines Agency, EMA) i Europski centar za prevenciju i kontrolu bolesti (engl. European Centre for Disease Prevention and Control, ECDC) pozivaju građane EU-a na cijepljenje te pridržavanje preporučenog broja doza cjepiva1. Navedeno je posebno važno uzevši u obzir širenje delta varijante virusa SARS-Cov-2 (virusa koji uzrokuje bolest COVID-19), potrebu za zaštitom građana, posebice onih kod kojih je povećan rizik od razvoja teškog oblika bolesti COVID-19 te želju za popuštanjem epidemioloških mjera i otvaranjem društava.
Trenutačna situacija vezana uz bolest COVID-19 u EU-u
Posebnu zabrinutost uzrokuje delta varijanta koronavirusa (B.1.617.2) koja se ubrzano širi Europom i može ozbiljno ugroziti dosadašnje napore na suzbijanju pandemije. Dostupni podaci upućuju na to da je predmetna varijanta 40% do 60% zaraznija od varijante Alpha (B1.1.7), prvotne zabrinjavajuće varijante koronavirusa na području EU-a. Također, delta varijanta može biti povezana s većim rizikom od hospitalizacije.
ECDC je procijenila da će do kraja kolovoza 2021. godine delta varijanta činiti 90% svih virusa SARS-Cov-2 na području EU-a. Stoga je ključno da države članice EU-a ubrzaju nacionalne kampanje cijepljenja, uključujući primjenu druge doze tamo gdje je preporučeno, kako bi se što prije stvorio kolektivni imunitet i spriječila mogućnost pojave novih varijanti koronavirusa.
Važnost uspješnog provođenja preporučenog programa cijepljenja
Pridržavanje preporučenog programa cijepljenja, u skladu s odobrenim informacijama o cjepivu, od ključne je važnosti za postizanje najviše razine zaštite od koronavirusa.
Kako je širenje delta varijante u porastu, naglašava se važnost primjene cjepiva prema preporučenom programu cijepljenja. Preliminarni rezultati2 upućuju na to da je potrebno primijeniti obje doze cjepiva protiv bolesti COVID-19 kako bi se postigla odgovarajuća zaštita protiv delta varijante.
Rizik od razvoja teškog oblika bolesti COVID-19 te fatalnih ishoda veći je u starijih osoba ili osoba s kroničnim bolestima, čime se naglašava potreba za potpunim provođenjem cijepljenja u ovim skupinama. Kako bi se zaštitile starije osobe ili osobe s kroničnim bolestima koje se nalaze u zatvorenim uvjetima, poput hospitaliziranih pacijenata ili štićenika domova za starije i nemoćne, u pojedinim je zemljama potreban daljnji rad na povećanju procijepljenosti zdravstvenih radnika i zaposlenika predmetnih ustanova.
EMA i ECDC potiču zdravstvene radnike i medicinsko osoblje da se što prije cijepe kako bi zaštitili sebe, svoje obitelji, suradnike i osobe o kojima skrbe.
U Europskoj uniji, pa tako i u Republici Hrvatskoj, trenutačno su odobrena sljedeća cjepiva protiv bolesti COVID-19:
Informacijama o cjepivima moguće je pristupiti odabirom pojedinog cjepiva s popisa te putem baze lijekova HALMED-a. U svrhu jasnijeg informiranja o najvažnijim razlikama odobrenih mRNA cjepiva te sprječavanja potencijalnih medikacijskih pogrešaka, HALMED je dodatno pripremio
Pregled statusa svih lijekova i cjepiva za COVID-19 u postupcima ocjene i odobravanja koji se provode pri Europskoj agenciji za lijekove (EMA) i Europskoj komisiji (EK) ili su završeni dostupan je ovdje.
Dodatne informacije dostupne su putem sljedećih poveznica:
Gdje se cijepiti na teritoriju Republike Hrvatske pogledajte ovdje.
I na kraju, u želji da se u nadolazećoj akademskoj godini, nastava a posebice kliničke vježbe mogu organizirati i provesti u punom opsegu te kako bi studenti savladali sve kompetencije propisane na pojedinim studijima Veleučilišta, još jednom vas potičemo da svojim cijepljenjem budete primjer odgovornog zdravstvenog djelatnika te omogućite, kako sebi tako i drugim studentima, uspješno savladavanje nastavnih obaveza i završetak studiranja.
v.d. prodekana za studente
dr.sc. Ozren Rađenović
Literatura:
Primjena dvije doze cjepiva Comirnaty, Spikevax ili Vaxzevria, odnosno jedne doze cjepiva COVID-19 Vaccine Janssen
Bernal JL, Andrews N, Gower C, et al. Djelotvornost COVID-19 cjepiva protiv varijante B.1.617.2 koronaviursa. Tekst je dostupan putem poveznice: https://www.medrxiv.org/content/10.1101/2021.05.22.21257658v1.