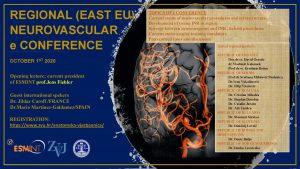 REGIONAL(EAST EU) NEUROVASCULAR e CONFERENCE
1ST OCTOBER 2020

Opening lecture : current president of ESMINT, prof.Jens Fiehler
Dear colleagues and friends,
it is our great honor to invite you to the NEUROVASCULAR e CONFERENCE
The current COVID-19 crisis has urged us to take extraordinary measures and organize NEUROVASCULAR e CONFERENCE thru webinar.
Priority of regional (east EU) Neurovascular e CONFERENCE is the science of finding solutions for patients with Cerebrovascular Diseases and continuity of training and education of physicians . Even in difficult times, the science remains our first priority. Exchanging scientific data and sharing novel insights cannot wait.
This conference is designed for neurosurgeons, interventional neuroradiologists, neurologists and other health care professionals with a special interest in the field of neurointerventional and cerebrovascular surgery and will be directly applicable to their practices.
The overall goal of this activity is to improve competence and performance of our target audience by delivering cutting-edge educational content that showcases the latest advances in current therapies and clinical research in region. We hope that our longstanding commitment to lifesaving innovation will translate into improved patient care.
More details and registration on link here.