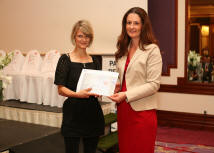 IVANA CRNKOVIĆ, apsolventica specijalističkog diplomskog studija fizioterapije na našem Veleučilištu, i asistentica na Katedri za fizioterapiju, dobitnica je ovogodišnje Top stipendije za top studente.
Prošle godine izabrana je među prvih 100 finalista, a ove godine je i dobitnica. Tijekom studija stažirala je u Specijalnoj bolnici za djecu sa neurorazvojnim i motoričkim smetnjama te volonterski aktivno sudjelovala u radu raznih udruga koje skrbe za osoba sa invaliditetom. Trenutno još i pohađa međunardno certificirani program na informatičkom učilištu. Sudjelovala je i u istraživačkom projektu "Professional mobile team – support for educational inclusion of children with special educational needs".
"Istinski uspjeh znači ne zadovoljavati se nijednim ograničenim ciljem." – osnovni joj je životni moto
Želimo joj da, sukladno tome, postigne još puno značajnih životnih ciljeva.